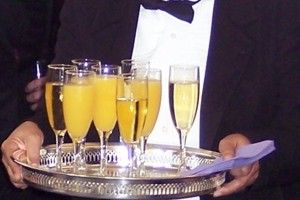 We offer a full line of staff to meet the needs of your event, formal or informal. Our capabilities range from single server (wait-staff) or bartender to a team of professionally trained servers. Our talented front of the house and back of the house staff will execute the event, allowing you to relax and enjoy the occasion.
Below is a short list for you to review:
Front of the House (FOH)
~ event supervisors (function directors)
~ servers and wait staff
~ bartenders
~ bar back
~ coat check
Back of the House (BOH)
~ head chef (kitchen supervisor)
~ chef's
~ cooks
~ carvers
~ porters / dishwashers
~ grill chefs
Our event staff is trained to be professional, respectful, quiet, and friendly. Our staff will arrive on time and professionally dressed with Catering Sensation Uniform.
Our event specialist can help determine what (and how many) service personnel you will need. Contact our office for more information.