Breakfast Catering
---
---
Fresh Continental Breakfast Items

Fresh breakfast pastries paired with our white platter presentation is a successful combination for your next breakfast event.

Innovative: Pancake Bake (Served w/ Pre-Cut Squares)

Innovative Hot Breakfast:

We offer amazing Pancake Bakes. Freshly baked off from pancake batter. The chef prepares them in Pre-Cut Squares to ensure easy serving for your guests.

Pancake Bake Selections Include (Pre-Cut Squares):
(served hot with warm syrup:)

~ Chocolate Chip
~ Caramelized Cinnamon Apple
~ Blueberry
~ Strawberry
~ Crushed Oreo
~ Crushed Butterfingers

Fresh Apple Fritters & Cinnamon Rolls

Apple Fritters packed with flavor and Cinnamon Rolls so fresh you will want a second one!

Innovative Hot Breakfast: Veggie Breakfast Pizza

Amazing flavors available! Fun and easy to serve. Our chef crafted breakfast pizza's are prepared with fresh scrambled eggs blended with ingredients on a bed of mild salsa on real pizza crust topped with shredded mozzarella and asiago cheese. Baked in our pizza oven.

1 pan yields 16 cut per pan (about 2x3 inches per square).

~ breakfast pizza ~ vegetable (FEATURED PHOTO)
~ breakfast pizza ~ meatlovers
~ breakfast pizza ~ cheese
~ breakfast pizza ~ sausage
~ breakfast pizza ~ applewood smoked bacon

Fresh Chef Crafted Vanilla Yogurt Parfaits

Chef crafted fresh yogurt parfaits. Made with vanilla yogurt.
NOTE: We also offer an amazing yogurt topping bar. Contact us for details.

Oatmeal and Yogurt Topping Bars

Start your morning off on the right track with our oatmeal and yogurt topping bars. Offering both healthy and fun toppings.

~HEALTHY~
~granola
~strawberries
~blueberries
~craisins

~FUN~
~flavored pecans
~candid walnuts
~chocolate chips
~crushed oreo's
~crushed butterfingers
---
With over 20 years of breakfast catering & event experience, we offer a cutting edge catering menus specifically designed for the needs today's business climate. We completely understand the everyday requirements for breakfast catering and offer the expertise to achieve excellence and consistency every order.
Breakfast delivery service is available for any occasion including:
~ early morning deliveries (5am or earlier )
~ continental breakfast
~ coffee and tea service
~ traditional hot breakfast selections
~ innovative breakfast selections: breakfast pizzas & amazing pancake bakes
~ french toast topping bar
~ yogurt & oatmeal topping bars
~ seasonal & company wide events
~ 10 to 5,000 guests |contact us anytime
CATERING ESTIMATE REQUEST click to receive an estimate or simply request more information.
---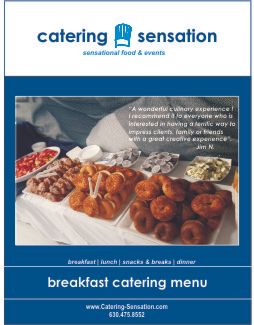 ---