Company Culture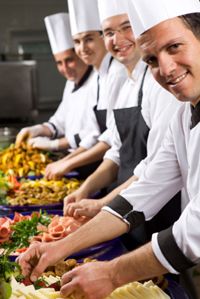 Flexible Options, Innovative Solutions, Impressive Results
We love what we do. The passion we have for our work enables us to take ownership of our clients' orders and events. We consistently strive to deliver the highest quality food and service possible.
We offer a professional yet flexible and friendly work environment. We are focused on complete client and employee satisfaction.
There is no greater satisfaction than delivering a successful order/event that helps a client reach their goals and objectives. To learn more about our approach to customer service, follow the provided links for more information.
Our Mission and Promise To You
Our mission is to provide you with the highest quality products and services possible in a timely fashion and at a competitive price. We promise to listen to you and help you achieve your business goals. We will always be there with honest, expert advice and quick, friendly customer service.
Our goal is to meet and exceed your expectations every order/event.
Guiding Principles
We're proud of the strong roots we've built over the past 20 years in our industry. We pride ourselves in being a complete source for all of your catering event needs. We've always been at the leading edge of culinary creativity and the latest catering trends.
Our Creed
Our philosophy is simple, we are only as good as our last catered event/order.
We will continue to evolve as a diversely skilled, fast-moving team of catering professionals ready to learn from each other and meet whatever challenges our clients may face. We launched this cutting-edge website to make it easier for our clients to request estimates, place catering orders, download catering menus, or simply to learn more about us. We hope you'll find it as useful as we do.